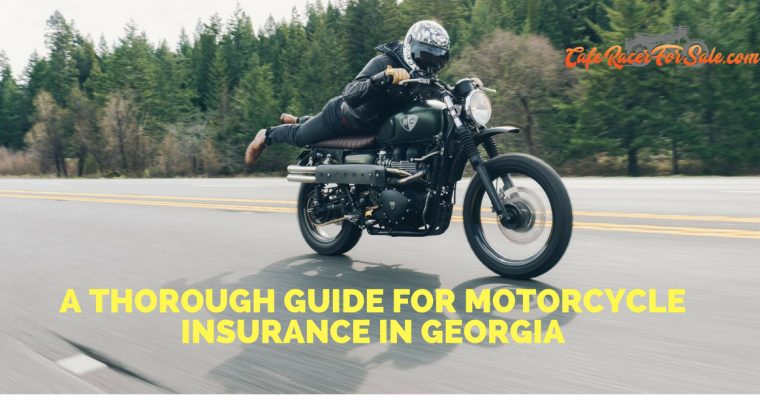 A Thorough Guide for Motorcycle Insurance in Georgia
Motorcycles are one of the best vehicles when it comes to traveling solo. They are convenient, efficient, and do easy on the pocket when it comes to fuel. People also use motorcycles to seek thrill. Racing, joy riding etc are some of the few things people do in order to get the adrenaline rush they are looking for. However, there are numerous risks here. If you are living in Georgia or any other place for that matter, accidents and injuries are extremely common. Many riders tend to be reckless, which results in life threatening injuries and damage to their bikes.
You should prioritize your health as your bike as we all know that medicals bills and bikes aren't cheap. However insuring your bike will make sure that you can receive proper compensation for damages and injuries. Unfortunately, there are many people who do not have the slightest idea of how motorcycle insurance works, which is why we have provided you a thorough guide for motorcycle insurance in Georgia.
Motorcycle Insurance Requirements
Getting liability insurance is slowly becoming mandatory in numerous states. It is a good initiative, as this insurance will cover any damages that you or your bike may go through in an accident.
Some states mandate uninsured or underinsured motorist coverage. Overall, this coverage is extremely helpful, as it will compensate for your injuries that resulted from an accident where the offender did not have insurance. Now, carrying uninsured motorist coverage in Georgia has also become necessary
It is important to find out if your uninsured motorist insurance covers property damage. You can do this by asking your agent.
Motorcycle Insurance in Georgia (Coverage Options)
Auto insurance in Georgia and motorcycle insurance in Georgia share some similarities between them. Here are some coverage options that insurance carriers offer:
1.         Collision Coverage
Collision coverage pays out for any damage that your bike sustains during an accident. This insurance will subtract your deductible amount when it is applied. Deciding the deductible amount is up to the person who is buying the coverage. You have to determine this amount before finalizing the details of your insurance.
2.         Comprehensive Coverage
It would be a good idea to get comprehensive coverage if you fear that your bike might get vandalized, robbed or stolen. However, you should keep in mind that comprehensive motorcycle insurance in Georgia does not cover any collision damages that are resulted from an accident. However, surprisingly, animal collision is something that this form of insurance covers.
3.         Medical Payment Coverage
Medical payment insurance is something that every motorcycle rider should always have. Motorcycle accidents happen no matter how many safety precautions you may take. These accidents cause serious injuries. In fact, some of these injuries are life-threatening and require topnotch treatment. Being able to afford the medical bills given by the hospitals is not something that everyone can do, which is why you will need medical payment coverage by your side. Keep in mind that your lost wages are not covered in this insurance. You will need personal injury protection to cover your lost wages.
We all know the risks that come along with driving motorcycles. Medical motorcycle coverage in Georgia will cover all of your medical bills and ensure that you get back to optimum health.
4.         Personal Injury Protection
Another form of motorcycle insurance in Georgia is personal injury protection. There are a few differences between personal injury protection and medical payment coverage. This insurance will also cover the medical expenses of the pedestrian that you have collided with. You do not have to worry about whose fault caused the collision. However, there are some states where personal injury protection is not available. The reason behind this is the increasing number of motorcycle accidents every year.
Some motorcycle insurance companies offer motorcycle insurance along with some add-ons. These insurance add-ons can turn out to be useful for you; however, you might have to pay some extra money for them.
5.         Transport Trailer Add-On
There are numerous incidents where bikes suffer damage to the point that they do not even start. Hence, you might require a trailer for transporting it to your place or the mechanic. Thus, this insurance add-on will ensure exactly that.
6.         Roadside Assistance Coverage
The insurance add-on that comes along with motorcycle insurance in Georgia will make sure that you are given sufficient labor in case your bike breaks down in an accident. It will also help to tow your bike if it stops working.
7.         Insurance for Custom Parts, Accessories, and Other Equipments
Motorcycle insurance in Georgia offers an add-on insurance that will cover the losses of custom parts (like most cafe racers) or any other equipment that your bike has. Moreover, the insurance covers damages to some specific parts of your motorcycle.
Georgia Motorcycle Insurance Discounts
Here are a few tips to get discounted insurance:
You can easily become eligible for an insurance discount if you participate in a motorcycle rider training course
Maintaining a good driving rider will guarantee you a motorcycle insurance discount
Get discounted motorcycle insurance by becoming a part of a motorcycle riders organization
Anyone above the age of 55 can avail a mature riders discount for their motorcycle insurance
Insuring more than one bike with a company is a good idea for getting discounted motorcycle insurance.
Stolen, Damaged, or Destroyed Bike Insurance in Georgia
You should have knowledge of how insurance companies pay out for the damages or theft of your motorcycle.
Mentioned below are the three main types of settlements
1.         Actual Cash Value
Insurance companies minus the deductibles and depreciation from your bikes original worth in order to determine its actual cash value
2.         Stated Amount
You will receive the exact amount that you had decided when you chose the policy.
3.         Agreed Value
The insurance company will pay you the amount that you and the company had agreed upon in the beginning. Moreover, they don't reduce the agreed value with the amount of your deductible.