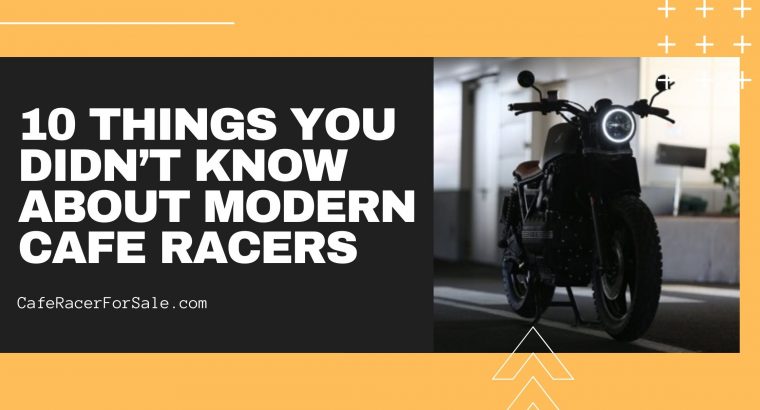 10 Things You Didn't Know About Modern Cafe Racers
Modern Café Racers imitate the bikes that during the '50s were used to race from cafes to the beat of the jukebox. In those days, the need was to strip them down to make them as light as you could, paying little heed to their look. These days, things have changed. Most importantly, what's significant about Café Racer is their radical styling, so they are deliberately built to knock some people's socks off and to be pined for by all. As admirable as these bikes are here are a few things you probably don't know about them.
1. Cafe Racers can be Comfortable Motorcycles
There is a prevalent misconception that these bikes are uncomfortable. This notion typically stems from the way the seats of bikes are shaped. The truth is not all bikes are uncomfortable. If somebody is building a custom bike, it is common that the rider position should fit the rider's size. The fundamental objective is to get a decent driving position by mulling over the rider's weight distribution. The key is to avoid a lot of pressure on your arms, legs, and posterior and hence, relatively dispersing the weight. With care, you'll have a seat that is certainly not a horrifying agony on your body.
2. Building a Cafe Racer Isn't Always Costly
Building a café racer can be very expensive if you are completely oblivious to the process, however, it is possible to get by on the cheap even if you don't know everything.
Meticulously smartly planning each thing would lead your costs, to sum up to around probably $1200 when building your bike. But, the go with the flow kind of approach can only exponentially increase that cost to even $10,000 or more. Who wants to be left with a bunch of parts from a broken-down bike. Therefore, making a plan and managing finances is the way to go.
Note: Make sure you purchase your motorcycle equipment and accessories from reliable and affordable vendors.
3. Cafe Racers are a Good Investment with Great Returns
When buying a new motorcycle, there is a high probability of you losing your money daily. Within five years, your bike's worth will reduce to 50% of its initial value. On the contrary, converting a 30- or 40-year-old bike into a café racer style would exponentially increase the value over the years. This shows how these bikes will always be a good investment—so what are you waiting for! Unless café racers are suddenly panned and become hated universally with no one wanting to buy them anymore (well we all know chances of this happening is close to impossible).
4. They are Easy to Maintain
The truth is, the maintenance of these bikes isn't as difficult as one might frequently suspect. There is little to no need to even visit a mechanic for overall maintenance. You can take care of the vast majority of maintenance tasks in your garage. Parts are authentic and are usually promptly accessible, thus, you wouldn't need to stress over a continuous replacement of parts.
At last, the support doesn't cost a fortune. You simply should be sufficiently knowledgeable.
Older racer bikes are easy to maintain as their parts are readily available. The engines are basic and maintenance can be done without help from anyone else. Regardless of whether you don't have insight into mechanics, you can undoubtedly take help from online videos with tips and guidance to keep your bistro racer in supreme condition. Thus, after the underlying cost of building one of these bikes, maintenance is really on the less expensive side. In many nations, the yearly charges and insurance are economical for old bikes, hence to stay clear of expenses an old cafe racer is probably the most ideal alternative you can pick.
5. Cafe Racers can be for Pillions
This is another fantasy that has been keeping riders far from building a cafe racer – single-seat/no space for a pillion.
You can get a separable cowl. These cowls can undoubtedly be taken out for expanding seating space when you are riding with a pillion. Having a single seat on your cafe racer isn't the only option, it's a decision. Numerous bikes from the 1980s had removable back covers, so there's no reason behind why your cafe racer can't, as well.
This is perhaps the most mainstream reason that individuals make to avoid purchasing a cafe racer hence they mostly opt for a scrambler bike.
6. High Fuel Consumption?
Numerous individuals presume cafe racers as cruisers that devour excess fuel consumption as compared to other bikes that utilize the same power while requiring lesser fuel comparatively.
This however is both a valid but also false statement.
Cafe racer bikes are developed from bikes with a high displacement motor. These high displacement motors are for the most part expected to generate greater power. However, this is not always the case. Power generation to displacement proportion of any motor relies greatly on the design and shape of the bike.
This is one of the reasons why the 155 CC top-of-the-line force motor from Yamaha and a 346 CC low-end force motor from Royal Enfield generate almost a similar measure of power, that is 19 psi.
This implies that RE's 346 CC motor can arrive at its greatest power potential at low RPM, while for Yamaha's 155 CC motor, a similar will require a higher RPM.
Hence, fuel consumes at almost a similar rate, and in general, mileage doesn't exceed irrationally.
As you are assembling a cafe racer out of a bigger bicycle, it implies a very high-displacement motor. Furthermore, due to these greater motors, the eco-friendliness should below. However, numerous bikes return high eco-friendliness even with a major motor arrangement.
A large number of these enormous motors are relaxed and don't fire up to high RPM. That implies the motors can produce their greatest power at a much lower RPM, meaningless work and, thus, less fuel utilization. A few different ways to build eco-friendliness are: limiting bike accessories, utilizing premium quality fuel, limiting wind opposition, and having tires that occupy a greater surface area
7. Bigger Engines Aren't Always Better
Cafe racers- eloquently designed vintage motorcycles with a modern feel. Moreover, delivers amazing power. Yet, one of the myths that keep people from considering these beasts is, that higher displacement engines are better than lower displacement engines. Though bikes like Royal Enfield Vintage's engine is as big as 346cc and their power output is equal to 150cc bikes. The reason being its engine design has a low RPM- low compression ratio engines have high torque, aiding in heavy bike mobility, though their performance is not as efficient as modern bikes, big engines are not efficient in producing power compared to their smaller counterparts. A small high revving engine and a heavy low reviving engine provide pretty much the same amount of energy. As a plus point, the former's maintenance costs are comparatively low. So one should be wise when picking their base machine.
8. Café Racers Can Be Daily Motorcycles
The aforementioned issue of discomfort may make you think that these bikes can't be used daily. You may not want to take it for a 7-hour drive but that does not mean that this bike cannot be used for day-to-to activities. With each type of motorcycle comes some form of compromise, for example, a cruiser bike isn't for off-roading, in the same way, the only constraint of the café racer is the absence of a luggage compartment for things such as safety gear making it unsuitable for long trips.
9. The Origin of its Name
Contrary to popular belief, the bike's name does not root from bikers driving café to café. It has nothing to do with café hopping but with the Ace Café – a truck stop in NW London during the 1960s. Bikers here, wanted fast-moving, affordable bikes, hence they bought used bikes and stripped them down making sure to make them as light as they could with low handlebars. The truckers at Ace Café disapproved of these bikers considering themselves to be real racers. Due to this when they would get back to the cafés, the truck drivers would laugh at them and say, 'You're not a real racer, you're just a café racer"
10. It is a timeless machine
A café racer cannot become out-dated. Where the design of modern bikes becomes unfashionable with the arrival of the next generation, the café racer is a bike that echoes the 1960's golden era of Grand Prix bikes which is just something you cannot compete with. For this reason, the café racers cannot become obsolete.