The Best Motorcycle Summer Clothing
The summer season is upon us, and if you're one of those people who loves the bike club lifestyle, you'll be glad to know that ChromeBurner has been busy listing some awesome motorcycle summer clothing on their store. Motorcycle summer clothing is essential for any rider but can be tricky to find. There are a lot of different brands, and some of them don't quite feel right. This post might just help you find the best motorcycle summer clothing on the market today. Below are some great bargains at Chromeburner.com.
Riding a bike is an activity that's good for the body and soul. It gets your blood flowing, your heart pumping, and your endorphins going. You'll feel more relaxed, you'll be able to get away from the stresses of work and family for just a moment, and you'll be able to just focus on the rumble of the engine underneath you. For some people, it's about the adrenaline rush, but for others, it's as simple as getting back to the roots of biking. It's a way of life and one that can be exhilarating, relaxing, and life-changing all at once.
As summer approaches, a lot of people think about buying new motorcycle gear. But what do you wear over your other clothes? Do you just put on a jacket, helmet, and goggles to get around town? Or do you go all out in the blistering heat while wearing full leathers? Whether you're going for a cross-country ride or just taking the bike on an afternoon jaunt around the block, there are certain things that should be worn when riding.
Keep it Cool!
Riding a motorcycle in the summer is hot, sweaty work. But it's not just your legs and back that sweat — it's also your hands and face. And while it may be embarrassing (or, you know, gross), sweating is actually a good thing! Sweating helps your body regulate its temperature, particularly when the air temperature is higher than your skin temperature.
However, the outcome is not always ideal. Sometimes your clothes and gear will become smelly and everything just becomes uncomfortable. But with the best summer clothing for active people, it's one way not to worry too much about bad smells or other unpleasantries that might come with working up a sweat.
We just hate that feeling when we get off our bike after a long ride and feel like we've been sautéed in oil for hours. Yeah, that's no good. So why not make our gear out of lightweight, moisture-wicking, or/and well-ventilated materials so we can keep riding no matter the weather — and stay cool when it matters most? Luckily, you can get these things from online stores like chromeburner.com without breaking the bank.
ChromeBurner 
ChromeBurner is a motorcycle gear retailer that was created for the sole purpose of providing one-of-a-kind shopping experiences for motorbike enthusiasts. With ChromeBurner's speed, security, and transparency, motorbike riders are bound to find all the things they need to help them maintain their rides.
ChromeBurner originally began as a hobby of Rob Hannink, its owner, selling limited edition AGV helmets from a storage unit. But it didn't take long for him to realize that he can do more. So, after some careful planning and hard work, ChromeBurner became one of the fastest-growing startups of all time and now the leading motorcycle gear retailer in the Netherlands and one of Europe's 5 largest sources of motorcycle gear and motorcycle parts.
ChromeBurner will go above and beyond for people who become, will become, and became part of it worldwide. They're still striving to improve their products and service. So whether you're a fan of Aprilia, Zongshen, or anything in between, ChromeBurner's got you covered. From helmets to summer clothing to accessories from the best brands in the industry, including Shoei, Alpinestars, Sena, Bering, and many more, ChromeBurner is the place to go for the hottest gear and all things motorcycle-related. And yes, they ship internationally! So if you're looking to buy new summer clothing this year, make sure it's at ChromeBurner Motorgear. It's one of the best places to buy summer clothes, especially for cyclists, motorcyclists, and sports enthusiasts.
Without further ado, here's a list of some of the best summer clothing on ChromeBurner for your convenience! Check them out below.
Summer Clothing: Jackets
It's unfortunate, but most motorcycle jackets are made for riders in colder climates. They're bulky and heavy, making them uncomfortable once the temperature rises in summer. But that doesn't have to be the case! You don't have to sacrifice comfort for safety – there is plenty of lightweight and breathable motorcycle jackets that can keep you cool even when the pace heats up. Check out the Bionic Action Jacket we found very reasonably priced at ChromeBurner below.
ALPINESTARS Bionic Action Black Red 
Check the Latest Price on ChromeBurner.
Enjoy the great ride! This summer's hottest coolest jacket is here. It's lightweight, well-ventilated apparel that will keep you cool and comfortable. Featuring a bionic design, this action jacket has a durable elastane stretch mesh construction that ventilates your body to keep you cool while riding in hot weather. The classic black and red colorway will complement any bike you choose to ride.
Summer Clothing: Pants
You're an avid motorcyclist. Getting up at the crack of dawn to hit the open road and enjoy some time alone with nature. And you wouldn't have it any other way! But once summer rolls around, you're always on the hunt for some new good summer clothing like motorcycle pants that can keep you cool the whole ride through – especially when you've got a long stretch ahead of you. Well, guess what?! It turns out that you can find them at ChromeBurner too.
REV'IT! Airwave 3 Short Black Pants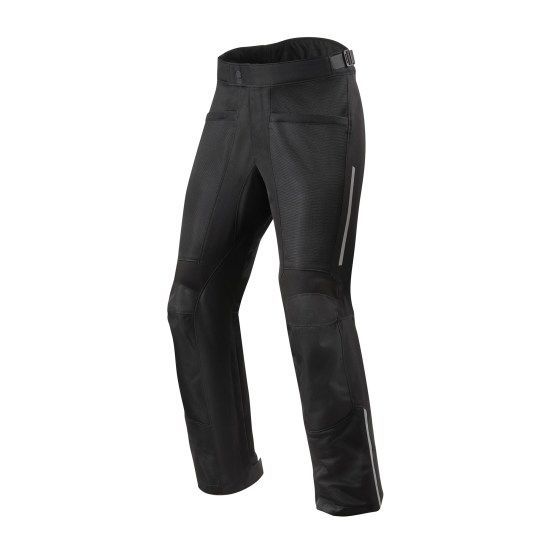 Check the Latest Price on ChromeBurner.
So let's be honest, most motorcycle trousers aren't exactly comfortable to wear, though the Airwave 3 is the exception to this. The Airwave 3 was designed to be the ultimate solution for hot weather riding. Loaded with PWR|shell mesh panels that provide excellent ventilation, you'll feel like you're driving on a cloud… and your pants will look so good, you might even consider wearing them in public.
And recognizing that modern riders already have enough to protect them when riding, the team at REV'IT! built a pair of summer motorcycle pants that can be paired with the rider's existing gear, including jeans or shorts. The result? A lightweight pair of pants with CE-level 1 SEESMART™ protection that can be worn on top of denim or cotton shorts without a problem.
Summer Clothing: Base Layer
Who'd have thought? An extra layer of summer clothing means your summer bod can be just that much cooler. A summer base layer can effortlessly keep you cool no matter how hot it gets outside. Aside from making it easier to put on and take off leather suits, summer base layers are made from moisture-wicking fabrics that help keep you dry and comfortable during the warm season. The best part? Oily stains are now a thing of the past!
But what makes a good summer base layer? Well, it should be body mapping, seamless, lightweight, comfortable, washable, quick-drying, and breathable — the best is a fine balance of all seven — so that when you're heading out for a motorbike tour adventure any time during summer, you can quickly rinse them in the sink and hang them outside to dry. In no time at all, they'll be ready to wear again. Check out F-Lite's MegaLight Superlight Base Layer below.
F-Lite MegaLight Superlight Men's Base Layer Suit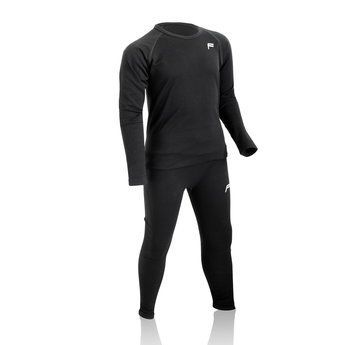 Check the Latest Price on ChromeBurner.
F-Lite MegaLight Superlight Women's Base Layer Suit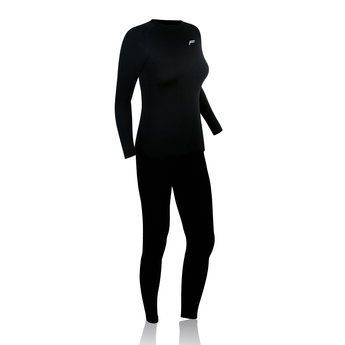 Check the Latest Price on ChromeBurner.
The MegaLight Superlight Base Layer Suit from F-Lite on ChromeBurner is the ultimate performance base layer suit for your summer excursions. This smooth, seamless, and lightweight base layer suit will keep you comfortable and dry on your ride or wherever you are. Made with high-quality construction, the base layer suit features body mapping to ensure maximum comfort and performance. The lack of seams means that there are fewer areas where friction can occur and chafe your skin while you are moving around — something particularly beneficial if you plan to be active in warm weather.
Summer Clothing: Gloves
MOTORCYCLE GLOVES ARE HOT. Unless you live in tundra, you will need to include the right pair of gloves if you're in the market for summer clothing to protect your hands from the summer heat. Gloves come in all shapes and sizes for every purpose: from sport to slumming it around town on your cruiser. If you're looking for the best summer motorcycle gloves, check out the Dainese X-Moto Unisex Black Anthracite below.
Dainese X-Moto Unisex Black Anthracite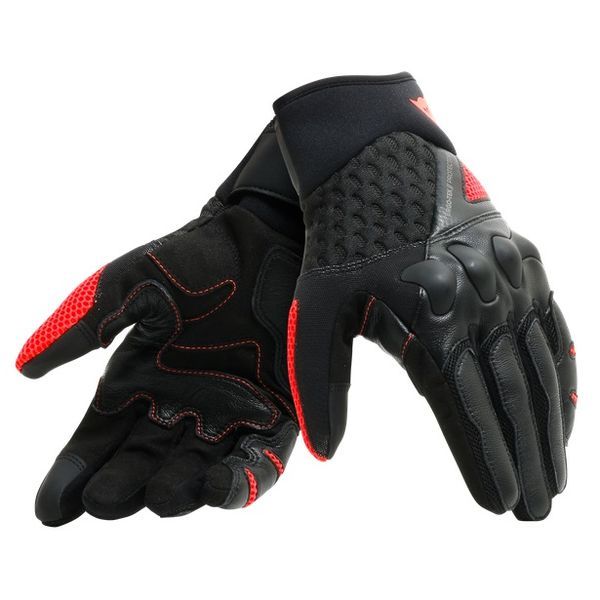 Check the Latest Price on ChromeBurner.
Dainese X-Moto is the latest sports glove on ChromeBurner, a true rider's glove, made of premium cowhide leather. The gloves provide comfort and protection thanks to their ergonomic design and protection features such as the knuckle protector and mesh panels for breathability. The gloves are ideal for summer riding thanks to their perforated cowhide leather, which makes them light and comfortable. The red sections of these Dainese gloves pop in contrast to their black leather counterparts. Velcro closures make it easy to slip them on or off and adjust their fit while an extra layer of textile over the mesh panels on the fingers provides additional grip on handlebars.
Summer Clothing: Boots
When the weather turns pretty hot, you know you can't go outside and just ride your bike wearing boots that aren't light enough to deal with the heat. You've got to find a pair that won't weigh you down, and most importantly, they're really reasonably priced.
ChromeBurner is now stocking the best summer riding boots around. If you're in the market for a new pair of boots, you really have to check out their range. They now stock products from brands like Sidi, Forma, Furygan, Bering, Alpinestars, and many more. Here's one of the best summer riding boots in their store.
Dainese Sport Master Gore-Tex Black Lava Red Summer Riding Boots
Check the Latest Price on ChromeBurner.
Beauty is nothing without comfort, and nothing is more beautiful than riding along the road with these Dainese Sport Master Gore-Tex. These summer riding boots have been designed to allow you to ride freely and comfortably in all seasons. They are made with a Lightweight Microfiber Shell that offers protection from water, scratches, and dirt while being breathable enough to ensure your feet stay dry on warm days. The built-in Ankle Brace provides support against torsion and twisting injuries while the Ankle Cup reinforces the ankle for greater stability.
Summer Clothing: Helmet
In the summer heat, you want to gear up for a sunny ride. Why settle for hot, sweaty laps around your neighborhood when you can be as cool and dry as a cucumber? Ride in style with summer clothing like a hot weather riding helmet – it will keep your hair from getting messy and your head fresh all day long.
Choosing the right summer riding helmet is a challenge — in fact, there are so many options in the marketplace that it can be downright bewildering. But one store stands out from the pack in terms of value, design, and security: ChromeBurner.Check out one of the best motorcycle summer helmets they have for sale below.
Nexx X.Wed2 Carbon Vaal Black Matt Helmet
Check the Latest Price on ChromeBurner.
If you want a helmet that satisfies 'comfortability', 'safety,' and 'appearance' as you ride throughout summer, the X.WED2 helmet is perfect for you. You want to look good when you're riding, right? With a controlled and measured fiber-to-resin ratio, its X-PRO Carbon technology makes it lightweight, all while having so many features. And to make it suitable for all riders, it's available in 3 different sizes (M-L / XXS-S / XL-XXXL).
The visor on this helmet is easily adjustable, allowing you to move it up or down a full 10mm. What's more, thanks to its X-lock quick release system, the visor stays firmly in place no matter how much you're bouncing around. You'll never lose it!
If you want the ability to flip your visor up and down with ease, you can always leave it installed. However, sometimes you just need goggles! Use the Nexx Quick Strap Goggle system to hook a pair up to this helmet's side pods. It's a great way to get extra usage out of this helmet.
Let's talk about the interior parts of helmet X.WED2. There are emergency quick-release cheek pads, a drop-down internal sun visor, and a removable chin curtain and breath guard. So its ventilation system is one of the most effective on the market, owing largely in part to its impressive size. Several vents are found on top of the helmet as well as underneath it, while 2 outlets provide an exit for air.
It offers more features and if you want to know about them, check out this helmet at ChromeBurner because this is one impressive helmet you want to wear as you ride through summer.
Conclusion
When the summer sun is shining with unbridled ferocity, there's nothing like cruising down the road on your motorcycle. But if you value your skin and bone structure and keeping it fresh and cool, you'll remember to wear the best summer clothing and riding gear when you go out for a ride. Thankfully, there's a wide variety on ChromeBurner that will let you express yourself while protecting yourself from potential harm — and bad smell.
Hope you enjoyed this article! Want to show your appreciation? Why not share it with your friends? If you have any questions, don't hesitate to reach out to us. We're always happy to help!