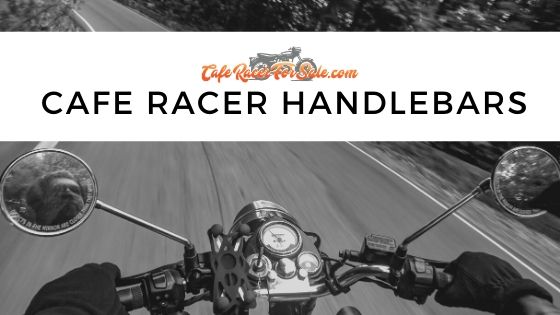 Cafe Racer Handlebars: What Options Do You Have
Every time I look at any bike, the first thing I see are the bars. There is so much to love about them. They sort of give a soul to the bike. Which is why I have always opted to assemble my own café racer so I can always play around with the cafe racer handlebars. The design of the handlebars does not really add much to the bike but to me, there is something about them that definitely tells me what a great café racer should look like. Since I have always had a fetish for them, I thought I should take it upon myself to share some of the knowledge I have on the handlebars to allow you see what kinds of options that you have and what each of them has to offer.
Cafe Racer Handlebar Clip-ons
These are the most common among the café racer enthusiasts. They have a very minimal look which is ideal for most people. More so those that build their own bikes. They are also called the stock handlebars.
Before we get any further, let's clarify that there are two types of clip-ons and each of them has its own benefits.
Non-Adjustable Clip-ons
There are the non-adjustable clip-on handles. They are great for the kind of biker that wants his café racer to have that conservative look. They are quite clean and very simple. Perfect if you don't want to take too much attention from other aspects of the bike.
The non-adjustable clip-on café racer handlebars also happen to be the oldest in the collection. They don't comprise of a lot. Just a steel or aluminum bar tube mounted to a billet aluminum clamp.
Even with all their glamour, these handlebars do have one very big concern. Usually, when not installed right and they happen to lock in the wrong position, they can make your café racing experience one filled with pain and discomfort.
Adjustable clip-ons
Alternatively, there are the adjustable options that are available. They might not be as simple or as plain, but they do allow you to have room to find the right spot for a better riding experience. But, don't be tricked by the word adjustability. These café racer handlebars are not fully adjustable. Instead, they have either two or three joints that can be adjusted. However, these give you enough room to adjust the height, the angle and distance from the seat which are the most important aspects.
Cafe Racer Clubman Style Handlebars
The clubman handlebar is yet another option that café racer owners can consider. It has some great benefits and a number of constraints as well. Truth be told, these are considered rookie café racer handlebars. They are also perfect for bikes that don't have a removable top triple clamp. So with the clubman handles, there is not much you can do.
Conclusion
However, there is something I noted a while back. If you don't have the money to get clip-ons, there is something else I'm seeing riders doing nowadays. They just get the handlebars of their café racers and flip them upside down. Whatever route you decide to follow, make sure that the wiring is done right. You don't want to have the pinching effect and have some wires cut in the process. This can prove to be disastrous. So you have to be keen.